Somehow, I made a bento every single day last week. Unfortunately Wednesday's was a sandwich and a peach so I didn't bother taking a picture of it but every other day I made a true-to-form bento. I always forget to take pictures of them in the morning so these are all camera-phone pictures (obviously my camera needs a flash!). I tried to clean them up a little but…it didn't always end up so well.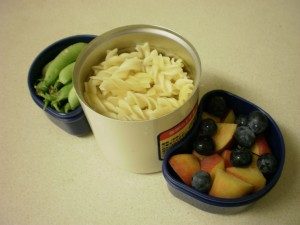 Pasta (tomato sauce on the bottom), peaches and blueberries, and sugar snap peas.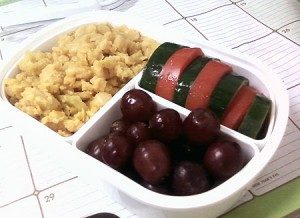 Curried Dal, grapes, tomato and cucumbers.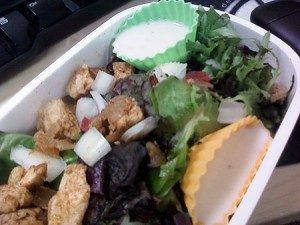 Mixed green salad with tomatoes, onions, spiced chicken and ranch dressing (though I didn't need 2 cups of it like I thought)
Quiche (mushroom, carrots, spinach), blueberry-lemon zest scone and fresh strawberries
Hopefully next week will be as successful!